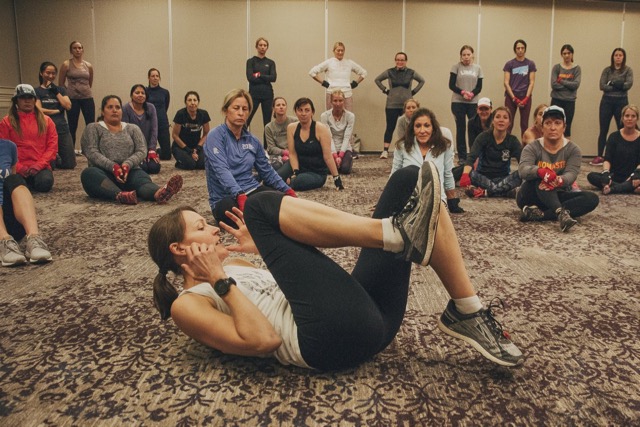 Almost daily the media report stories of attacks on runners. Those who fight back are more likely to get away, yet without some form of training, it's hard to know what to do. Join self-defense instructor Julie Morrill on Thursday, October 11 at 6:30 PM at PVCC for a demo on personal safety where you will learn how to fight back. The demonstration will include safety tips, scenario discussions, and some empowering self-defense techniques. Bring your sense of humor and sense of adventure.
What will I learn?
– How to recognize and avoid potentially violent situations
– How to respond to violent situations
– Basic tools for fighting back, including:
– The ideal stance to help maintain your balance and get away
– Basic moves: punches, kicks, elbows, and knees
– Defending against common attacks, such as:
* Wrist grabs
* Bear hugs — both arms free and arms trapped
* Hair pull attacks
* Being pushed to the ground
—DEMO THURSDAY OCTOBER 11—
5:30 PM – Optional group run on the Saunders Trail (Meet at the Overflow parking lot off of Rte. 20)
6:30 – Pizza & Social, North Hall Meeting Room PVCC
6:45 pm – Self Defense Demo
This event is free to CAT Members, and $5 for non-members which will be donated to SARA (Sexual Assault Resource Agency). Register on Facebook or send an email to: board@cvilleareatrailrunners.org so we'll know how many pizzas to get.
—ABOUT THE INSTRUCTOR—
Julie Morrill teaches Krav Maga, a practical hand-to-hand combat system developed by the Israeli military. She conducts safety workshops for runners, women, and girls around the world. She is also a consultant in emergency preparedness and security.
—FULL WORKSHOP SATURDAY OCTOBER 20—
If you would like to learn more sign up for the full workshop. Julie is offering a Self Defense Workshop on October 20. She will cover some of the same things as in the demo, but in much more detail. CAT Members receive $5 off the full (check the Member Discount Page for the code) Link to get tickets to the full workshop: https://www.eventbrite.com/e/safety-workshop-for-women-girls-tickets-48285112070
[ngg src="galleries" ids="6″ display="basic_thumbnail"]